Featuring a sneak preview of responses to the Health Research Authority 'Make it Public' consultation, an investigation into researchers' communication with study participants and the worldwide spread of endorsements for the Open Pharma position statement on open access
Transparency – not just for ghosts! via Health Research Authority
This October, unlike the Ghostbusters, the Health Research Authority (HRA) is supporting all things transparent by sharing some insight into its 'Make it Public' consultation. The consultation, which took place between June and September 2019, asked the public for feedback on the HRA draft strategy to improve research transparency. Over 700 individuals and organizations participated in the 12-week consultation, with over 150 people attending face-to-face workshops across the UK. Almost one-third of the responses to an online transparency survey came from patients, patient advocates and research participants; a full breakdown of survey respondents is expected by the end of the year.
Although the HRA is yet to reveal any additional insights into its findings, the article assures readers that the Research Transparency Strategic Group is working on a strategy that will be shared with the HRA board in December 2019, before its presentation to the House of Commons Science and Technology Committee. Let's hope that, whatever the strategy, the HRA remembers that complete transparency doesn't always have to be a scary thing.
Communicating with the other side (of the research process) via BMJ Open
Most stakeholders will agree that research dissemination to a wide audience is key to increasing the impact of study findings and their implementation in practice and policy. In the past, most research communications have been tailored to the needs of the scientific community, overlooking those of the study participants and patients.
A paper, which was published in BMJ Open earlier this week, aimed to assess the frequency at which research findings were communicated to study participants through a survey sent to the authors of approximately 20 000 clinical trial reports. Of the 1818 authors who responded and whose study met the inclusion criteria of this analysis, 27% confirmed that they had already communicated their findings to patients, and a further 13% stated that they planned to do so.
Is sharing clinical results alone enough, or should communications be written in language understandable by trial participants? With this in mind, the authors also investigated the format in which the studies included in this analysis were communicated to trial participants. Results showed that half of the research communications shared with the participants were written specifically for a non-scientific audience.
In addition to outlining the benefits of communicating with study participants, respondents also highlighted some of the barriers to effective research communication, including lack of early planning, support and incentives. Respondents also revealed that very few funders, regulatory bodies or ethics committees require participant communication following trial completion, clearly indicating the need for a shift of focus towards more participant-centred research communications.
The Open Pharma position statement goes global via Open Pharma
For research to be truly transparent, it must also be accessible. One way to increase accessibility is to publish research open access, as outlined in the Open Pharma position statement, which was fittingly launched at the MedComms Networking Brunch Meeting during Open Access Week 2019. In brief, the position statement outlines Open Pharma's aim to ensure authors publishing pharma-funded research have the same right as authors publishing research funded by other sources – that is, to publish their findings open access. Just 10 days since its launch, the position statement has already received endorsements from 17 organizations (including two publishers and one pharma company) and 53 individuals from eight countries across four continents (Figure).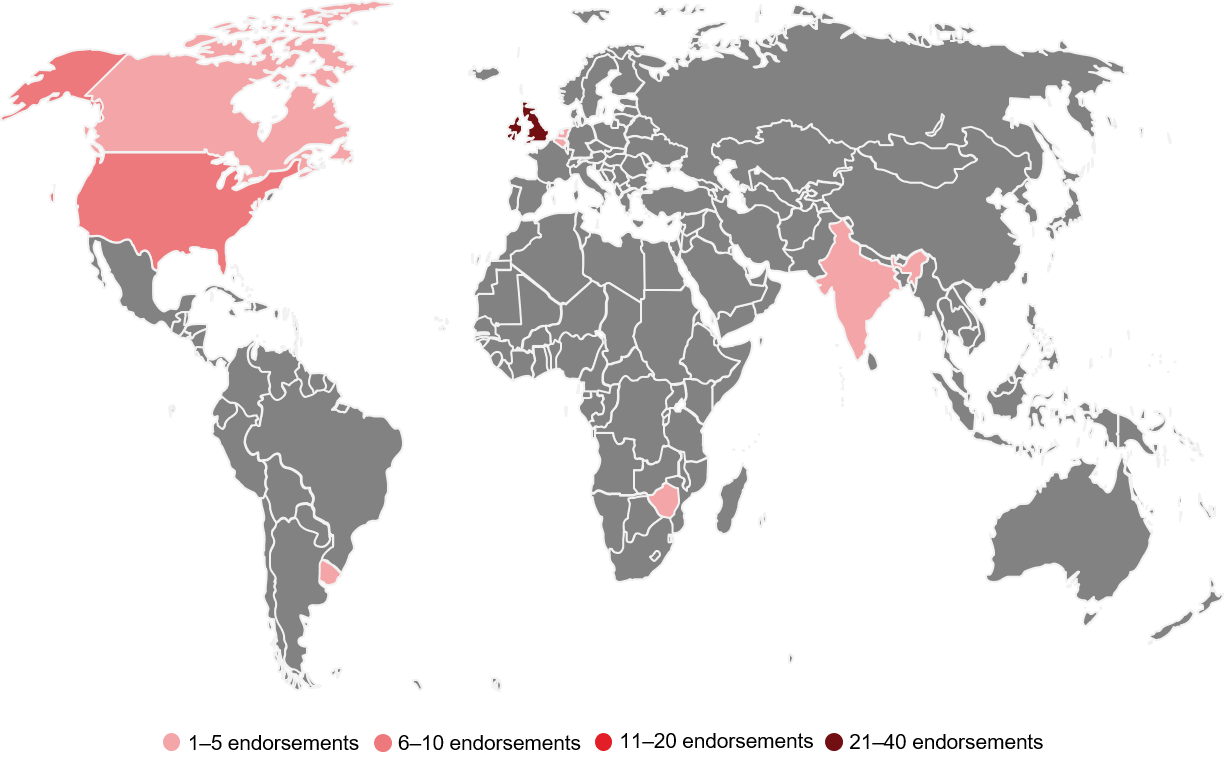 Figure. Global distribution of individual endorsements of the Open Pharma position statement.
If you haven't already, you can read and endorse our position statement here, or download it from our Figshare page.