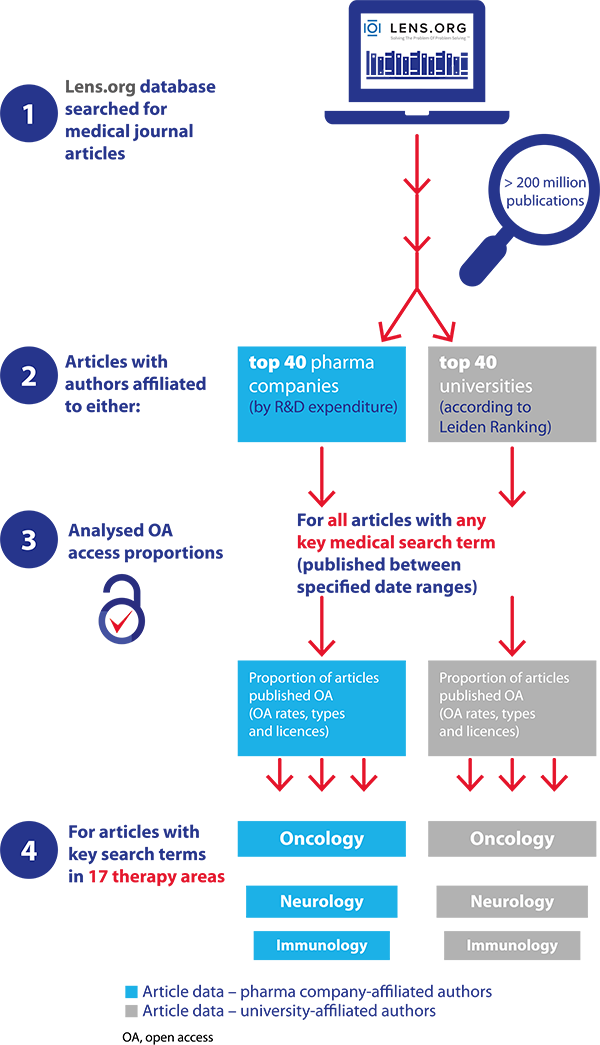 Built using the Lens platform
To observe the open access rates, types and licences of publications with authors affiliated to pharma companies and universities, we created a large-scale, automated, live, online dashboard on a scholarly database called the Lens (www.Lens.org) (Figure).
The Lens aggregates the metadata and content of > 200 million scholarly publications and uses artificial intelligence to assign 'field of study' indices to each citation in the repository.
The dashboard presents open access data for published articles with authors affiliated to the top 40 pharma companies (by R&D expenditure) and the top 40 universities (according to Leiden Ranking of scientific performance).
Please click here to read our poster presented at the Annual Meeting of ISMPP 2023
The dashboard data are based upon Lens report search queries. We used a combination of expert consultation and test search queries to define a list of key medical search terms and categorized these terms by therapy area.
Open access rates, types and licences are presented for all articles published in the live, updated time frame before the current date, and that have a 'field of study' index that matches with any term from either the full list of key medical search terms or from therapy area groupings of key medical search terms.